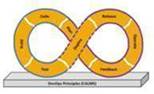 Continuano le proposte virtuali di GUPS!
Ti aspettano altri 2  workshop su DevOps Essentials with SAP, affrettati!

DevOps in an ABAP-based environment
Date: October 15, 2020 – 3:00 - 4:30 PM (CEST)
Speaker: Karin Spiegel, Product Management team member for Cloud and Lifecycle Management, SAP SE
Working in an DevOps mode is what many (development) teams aim for. With Git-enabled CTS (gCTS), you can start integrating your ABAP development in this working style. But how? gCTS provides options to transfer your ABAP objects to a Git repository from within your ABAP development tools. You can set up CI/CD processes using pipeline steps that you can get from project 'Piper'.
Registrati e ti verranno inviati il link e la password per accedere direttamente al workshop.
Buona fruizione dal Consiglio GUPS
---

 Nota: il workshop si terrà in lingua inglese

https://www.gups.it/it/eventi-per-data/34-2020-07-28-10-25-34/iscrizione