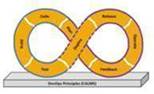 Continuano le proposte virtuali di GUPS!
Ti aspettano 3  workshop su DevOps Essentials with SAP, affrettati!

Date: October 8, 2020 – 3:00 - 4:00 PM (CEST)
Speaker: Dirk Lehmann, DevOps evangelist and Continuous Delivery expert, SAP SE
                    Andreas Löbel, Chief Development  Architect for SAP Cloud ALM, SAP SE
What is DevOps? And why is everyone talking about it?
This session gives some insights into the goals of DevOps, where it came from and why so many companies are pursuing it.
You will also learn how SAP itself uses DevOps in its new SAP Cloud ALM solution to enable high frequent deliveries.
Registrati e ti verranno inviati il link e la password per accedere direttamente al workshop.
Buona fruizione dal Consiglio GUPS
---

 Nota: il workshop si terrà in lingua inglese

https://www.gups.it/it/eventi-per-data/34-2020-07-28-10-25-34/iscrizione